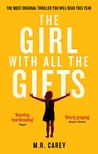 The Girl with All the Gifts
by
M.R. Carey
My rating:
5 of 5 stars
Just when you think a genre is overdone, that there is nothing new and fresh, along comes a novel like The Girl with All the Gifts by M.R. Carey. The science and character development behind this zombie apocalypse novel lift it above the hordes of flesh eating works that have flooded bookshelves.
The story opens with Melanie, a gifted student, in a special school for kids just like her. Kids who have to be locked in cells, strapped into special classroom chairs and muzzled before the teacher begins the first lesson of the day.
From here we are introduced to a small cast of characters who slowly unveil the twisted world that was left after The Hungries over ran civilization. The teacher who is the voice of compassion, the biologist who only wants to find a cure and the military sergeant that shoots first and asks questions later.
Everything seems fine and in balance until the school is discovered by Junkers, humans forced to scavenge, and Melanie and the adults are forced to flee into the jaws of the wide open world.
The Girl with All the Gifts is a smart novel, with plausible science, and a vision of a zombie apocalypse that feels all too possible.
View all my reviews